KENT DORN Remains
In the video room: Jennifer Sullivan One-Week Walden
November 4, 2010 - January 4, 2011
Back to Exhibitions
---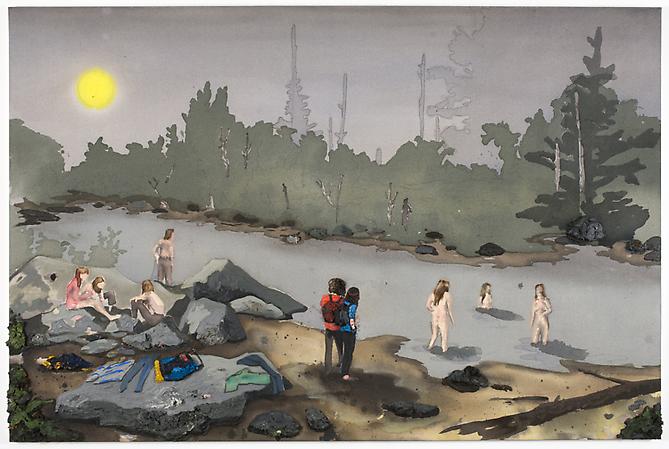 ---
Press Release
KENT DORN Remains
In the video room: Jennifer Sullivan One-Week Walden
November 4, 2010 - January 4, 2011
FOR IMMEDIATE RELEASE:
KENT DORN "REMAINS" in two F+V locations: 530+542 w. 24th st. Chelsea
JENNIFER SULLIVAN "One-Week Walden", in the video room.
November 4th, 2010 - January 4th, 2011 Public reception: Thursday, November 4th, 6 - 8pm
Kent Dorn has a story to tell, and it's very much his own. My first glimpse of the remarkable painting "Mystic (Sage)" by this artist, ironically at a collector's high-rise penthouse overlooking downtown Chicago and Lake Michigan, was a revelation. The feeling was not unlike seeing fog suddenly lift after ascending a cloud-enshrouded mountain, and it quite literally took my breath away. I was struck immediately by his raw talent, the aura of mystery which impermeated those stuccoed gobs of dried paint and grey wash forming the composition. Most of all I was impressed at how indelibly he captured his subject – the post slacker/Gen X crew who grew up in the Bush war years and came to age when Obama was transcendently elected. While several other young contemporaries also sprang to mind upon my introduction to Kent Dorn – Tyson and Scott Reeder, Hernan Bas, Katherine Bernhardt, Liz Marcus and others (not to mention a strong kinship with Peter Doig) - Dorn is without a doubt a forerunner of this genre, both intrinsically, chronologically, and because of his unique poetic sensibility.
In his newest work, "Remains", Dorn proves he is one of the chief narrators of
American suburban angst and melancholy, doled out in equal measure with foreboding themes of apocalypse, religious (oc)cult and extra-ordinary phenomena. He is a rare portraitist of life on the fringes of society: drifters, runaways, gypsies, ex-cons – icons of the dispossessed, deformed, lost, lonely and misunderstood. One of the signature pieces in the new series, "Down By The River", depicts a dozen young men and women around the water's edge, in various states of undress; clothing and backpacks are strewn on the rocks haphazardly. This beautifully painted, idyllic scene is a veritable latter-day Woodstock, a slacker's "Dejeuner Sur L'herbe" - but again with something intangible, dispirited and mysterious mixed in.
Dorn does not merely present or regurgitate stories of this world – clearly he has lived them. These are extremely private and felt works. In "Guitarist", for example, he allows the viewer to literally enter the subconscious of the musician - from the inside out. Questions form: is this a famous classic rock personage - David Crosby, Neil Young perhaps? – or an unknown talent practicing in the garage of his parents' ranch house basement in the Midwest? Another work , "Man Holding Brush" - set in the gloaming of a secluded forest – raises a similar issue of identity. Why the flamboyant velvet jacket on this guy camping in the woods? His figures appear perched on the edge of the abyss, looking into the future with a mixture of hope, trepidation and perhaps a touch of obliviousness.
Dorn uses whatever materials are at hand to convey these complex sentiments. Push pins, dried pigments, collaged magazine photos and studio detritus all gracefully weave their way into the canvases. The result is a rich medley of nostalgia and visceral sensation: they are at once delicate and heavy, open and contained, dark and light, introverted and exposed. His subjects – backpackers, hitchhikers, wayward couples, obscure musicians, burned out vans, shacks, skulls, mushrooms et al – leave an indelible impression on the viewer – as though seen previously only in dream. There is a spiritual and physical authenticity - and a stark beauty - to these paintings, which distinguishes Dorn from his peers. At the end of the day, what "Remains" are his own, very personal, truths.
Kent Dorn was born in rural South Carolina, received his BFA from nearby Anderson College, and went on to gain his masters at the University of Houston. He has shown previously at galleries in Houston, Chicago and Toronto. This is his first solo exhibition in NYC, and will occupy two F+V locations: 542 w. 24th st, and 530 W. 24th st. (formely Zach Feuer/LFL)
Also, to inaugurate the video series at our new location, we will be presenting a never-seen-before piece entitled "One-Week Walden" by interdisciplinary artist Jennifer Sullivan, a journal of her attempt to create a Walden-like experience in upstate New York during a week-long stay in a pop-up camper parked in her father's backyard. In the process of realizing the implausibility of this action, Sullivan tells a story about her feelings and thoughts during the experiment and creates free- associated dramatizations drawn from fantasies of what she had hoped would happen.
I
n addition to video, Sullivan creates performance, painting, installation and projects which combine all of these elements. Born in Albany, NY, Sullivan currently lives and works in Ridgewood, NY. She earned an MFA in Fine Arts from Parsons in 2005, and a BFA from Pratt Institute. Sullivan has exhibited widely, including exhibitions, performances, and screenings at sites such as The Kitchen, PS1 Contemporary Art Center, NADA, and the New Museum in New York; and Raid Projects and Telic Arts Exchange in Los Angeles. Her videos, including "One-Week Walden", are included in the collection of the Geisel Library at the University of California at San Diego. Sullivan has participated in residencies at Oxbow in Michigan and Voom HD Lab in
NYC. This fall, she will be an artist-in-residence at Yaddo in Saratoga Springs, NY.
Please join us for a gala reception for both the artists and friends on Thursday, Nov 4th from 6-8 pm, and help celebrate F+V's move to our new location. For more information, please contact Nick Lawrence or Kevin Kay at info@freightandvolume.com, or 212-691-7700. And please visit us at Pulse Miami, Booth E- 305, The Ice Palace Dec 2-5, 2010, 1400 North Miami Avenue.